About Sunset Glamping
Sunset glamping sells a tranquil and luxurious glamping holiday experience. This unique experience allows you to enjoy spectacular sunsets over the Sperrin mountains and become one with nature. Whilst here you can relax in your own private hot tub and give yourself a well deserved break.
The land was once used for a very different purpose. It contributed to the production of Irish Linen which was world renowned. Situated throughout the woodland were several lint and flax dams. These dams were fed by small streams and natural springs. With this rural setting we hope you enjoy the beauty of nature and picturesque views of the Sperrin mountains.
Key Facilities
Private Viewpoint 0.5km hike away
Free parking on premises
Private outdoor seating
Hot-tub
Varied wildlife
Mountain View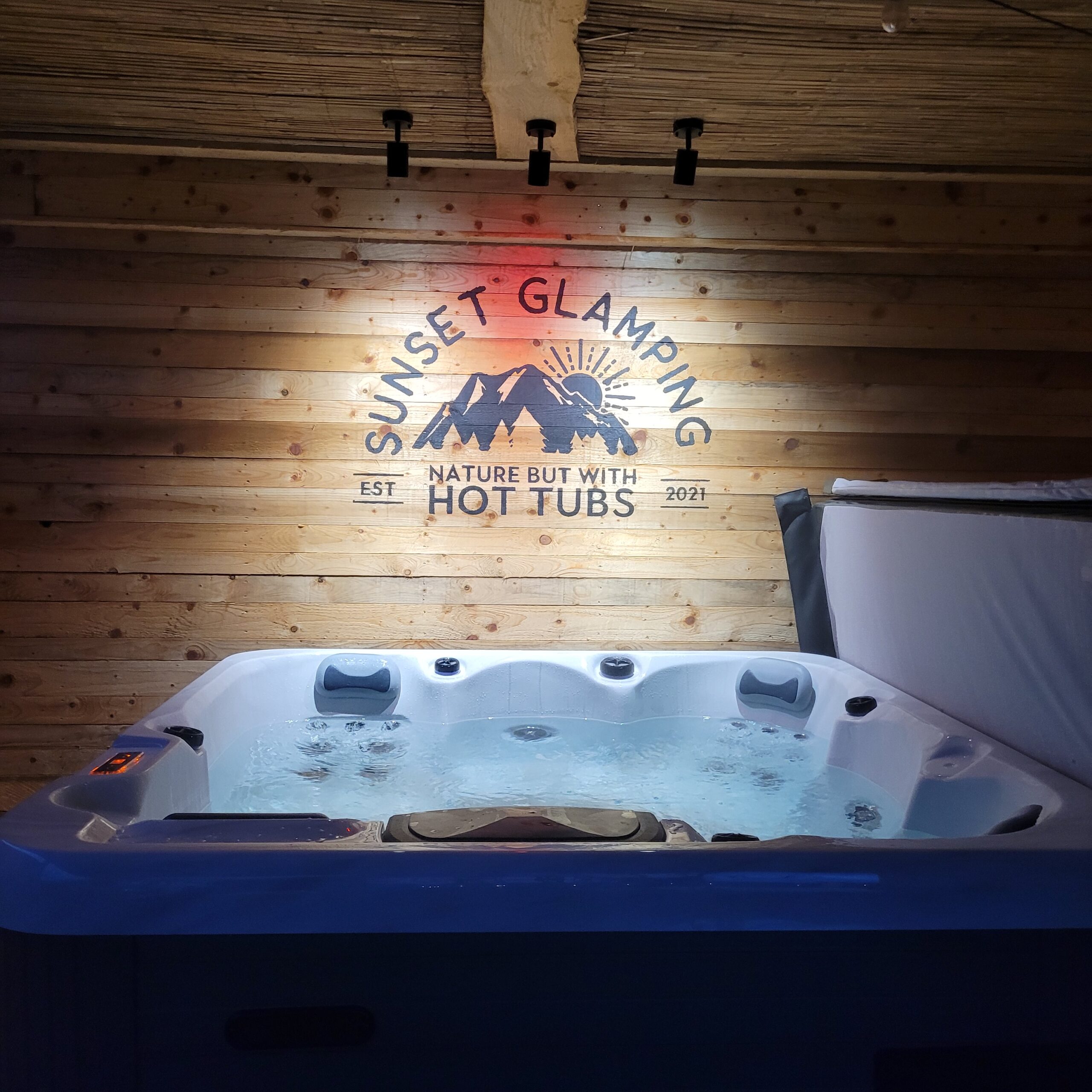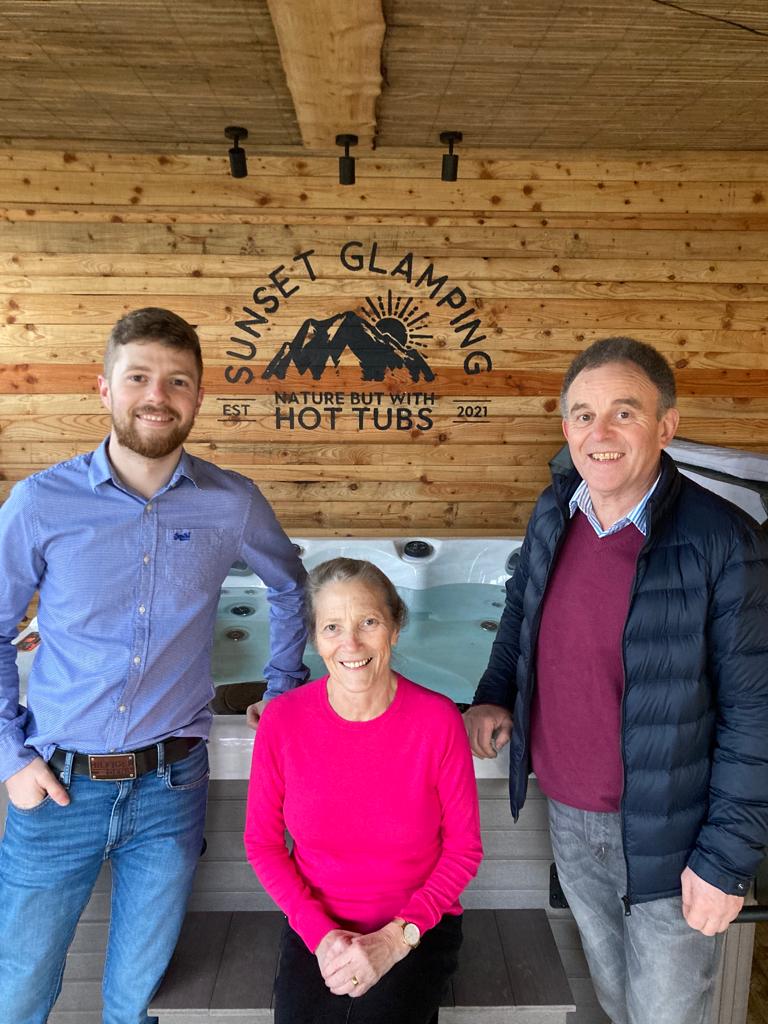 Meet the Owners
I am Paul, the Great Grandson of the 1st Generation who lived in the townland of Mullinsallagh. I live on the farm with my parents, David & Georgina.
It is our pleasure to welcome you to Sunset Glamping.
We hope you enjoy the tranquillity of the rural setting and the beautiful view of the Sperrin Mountains.
Read Our Welcome Pack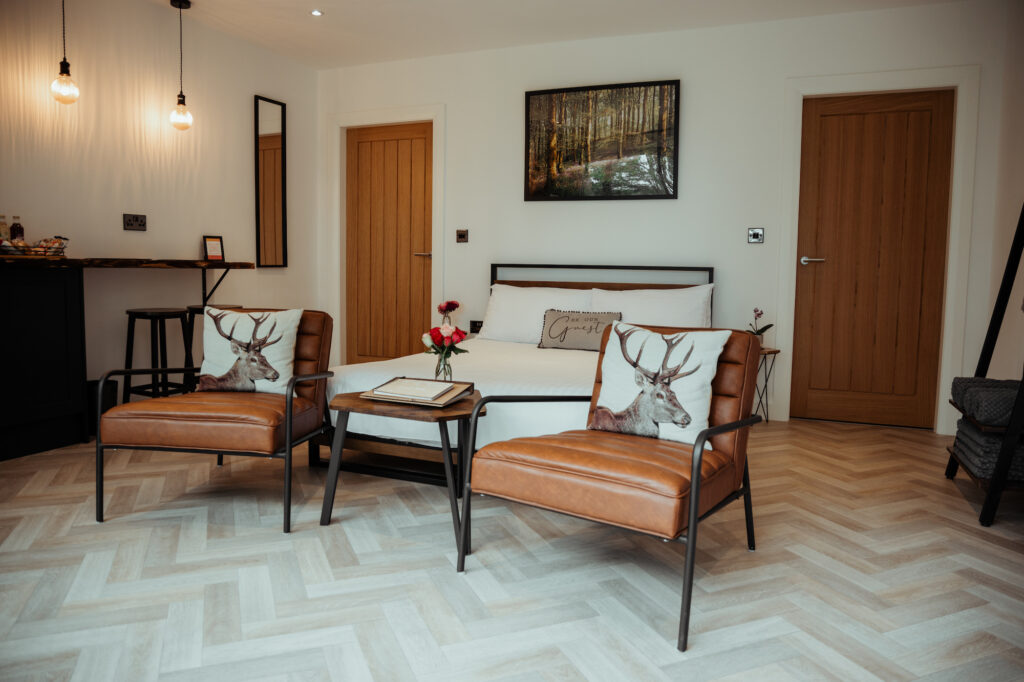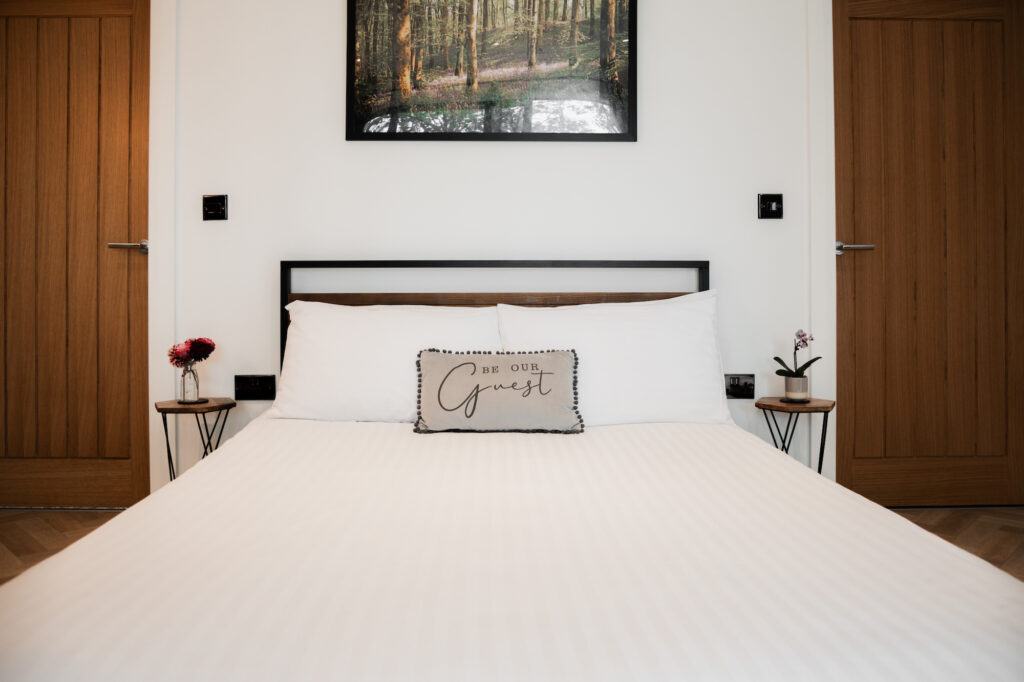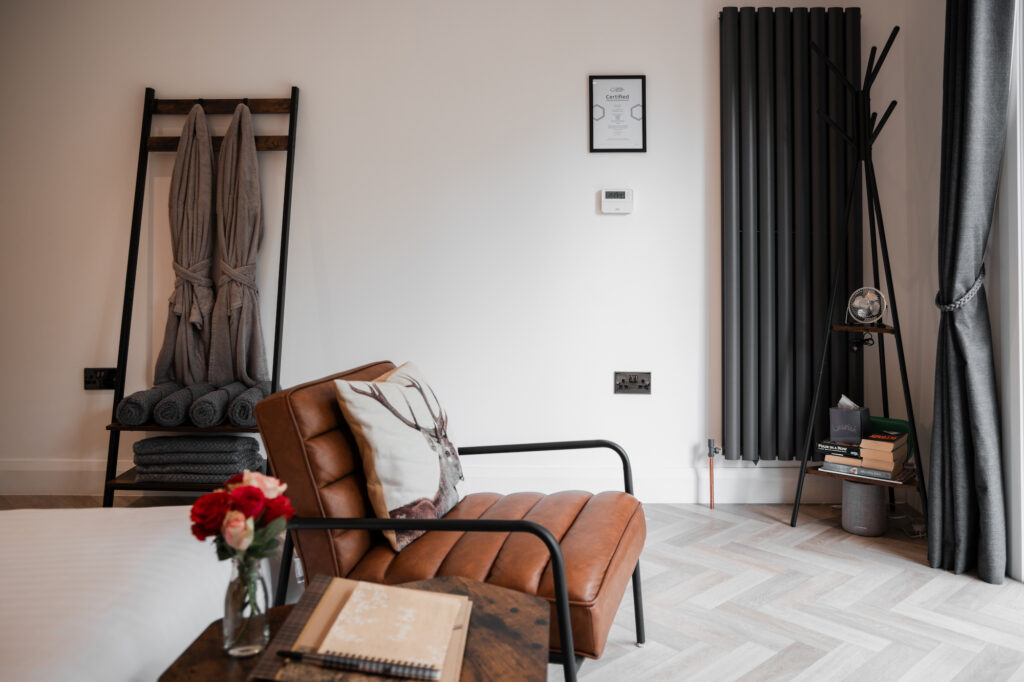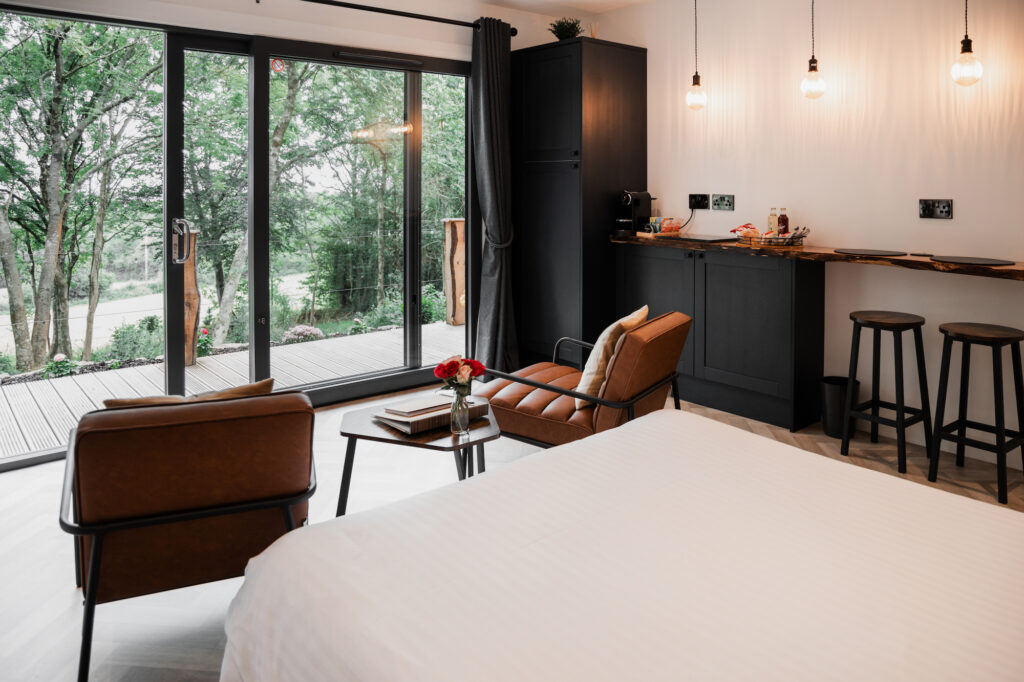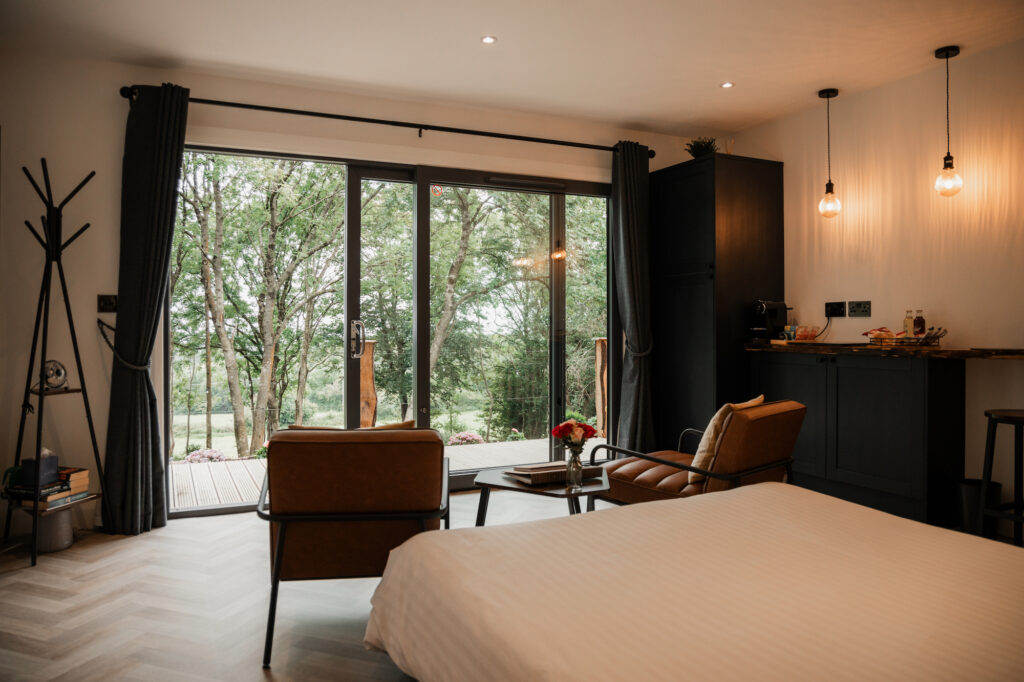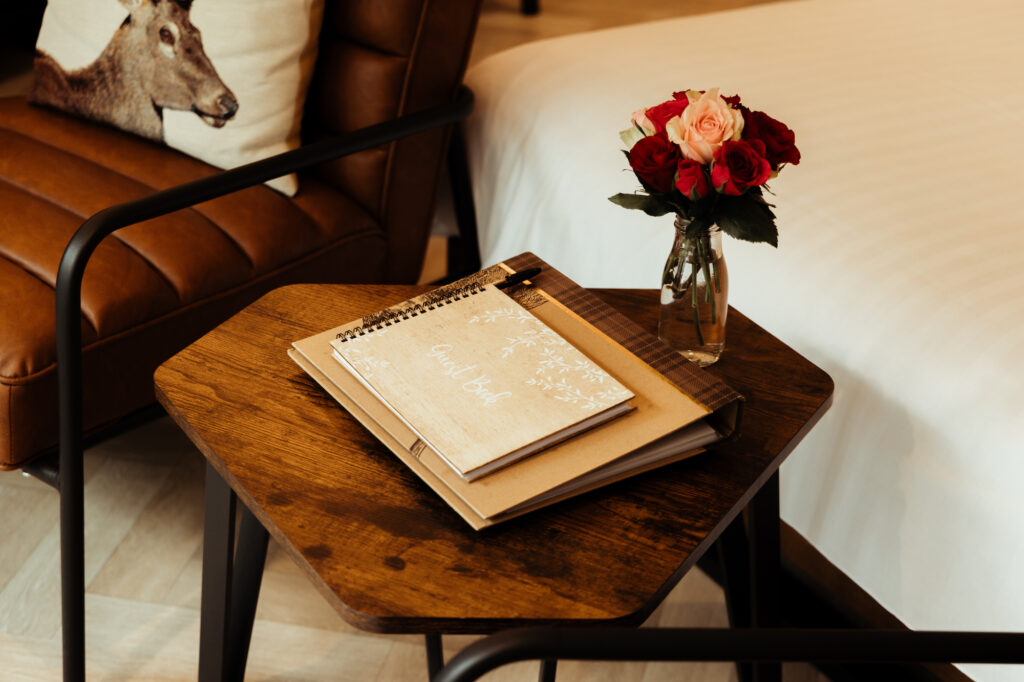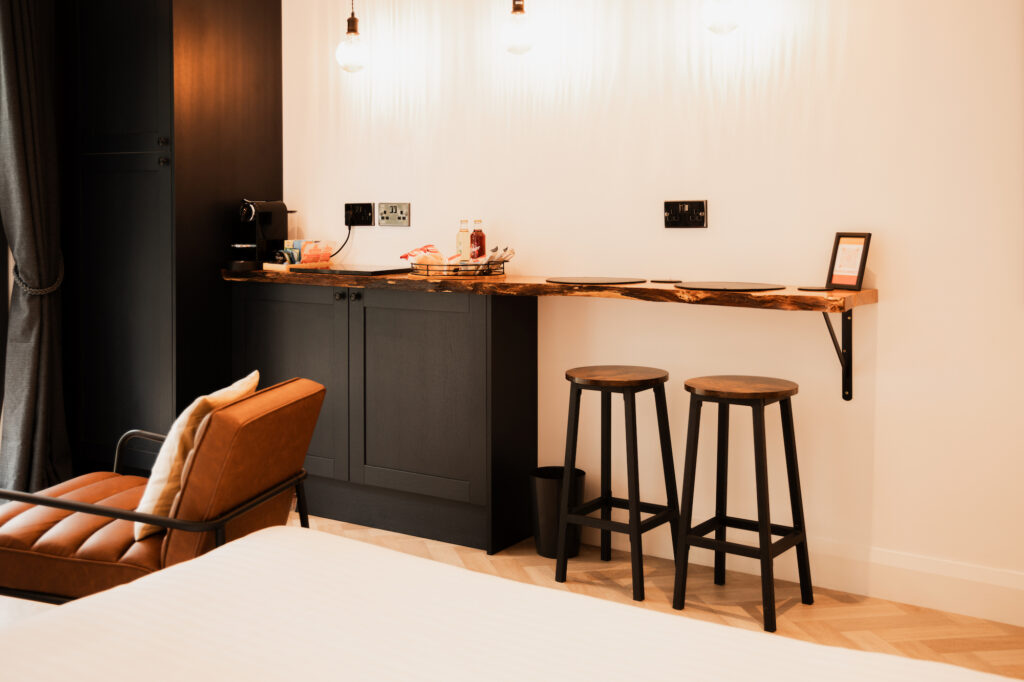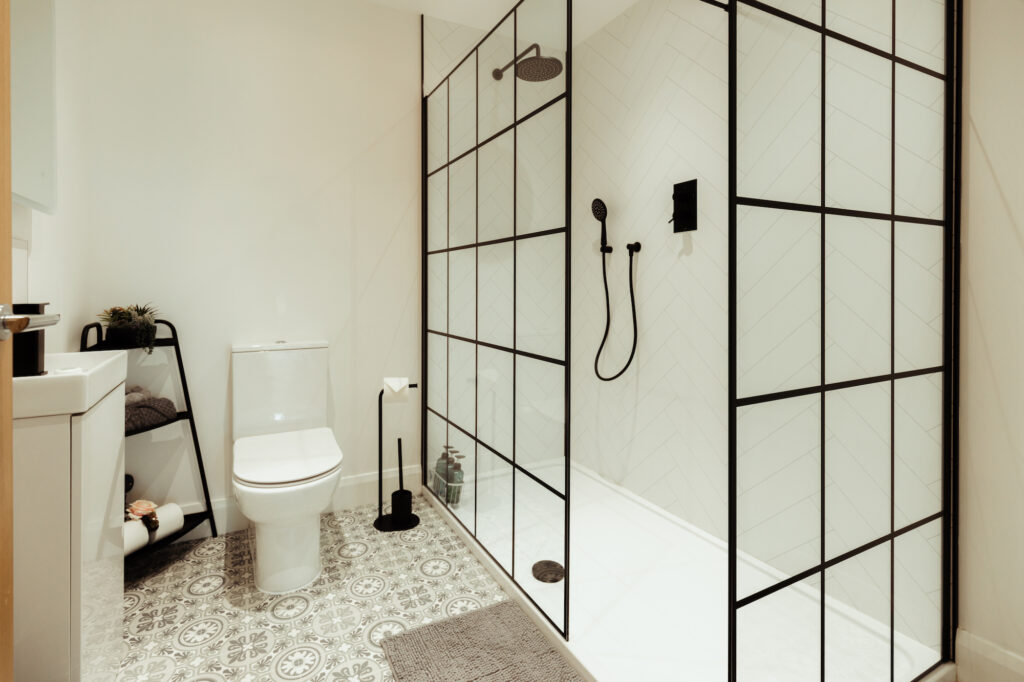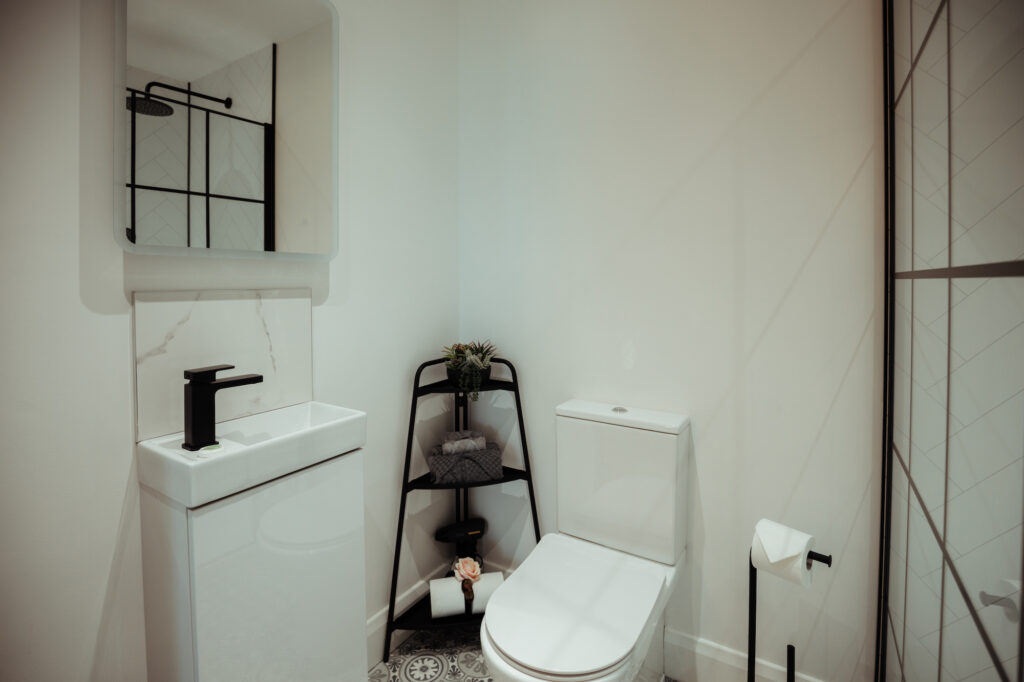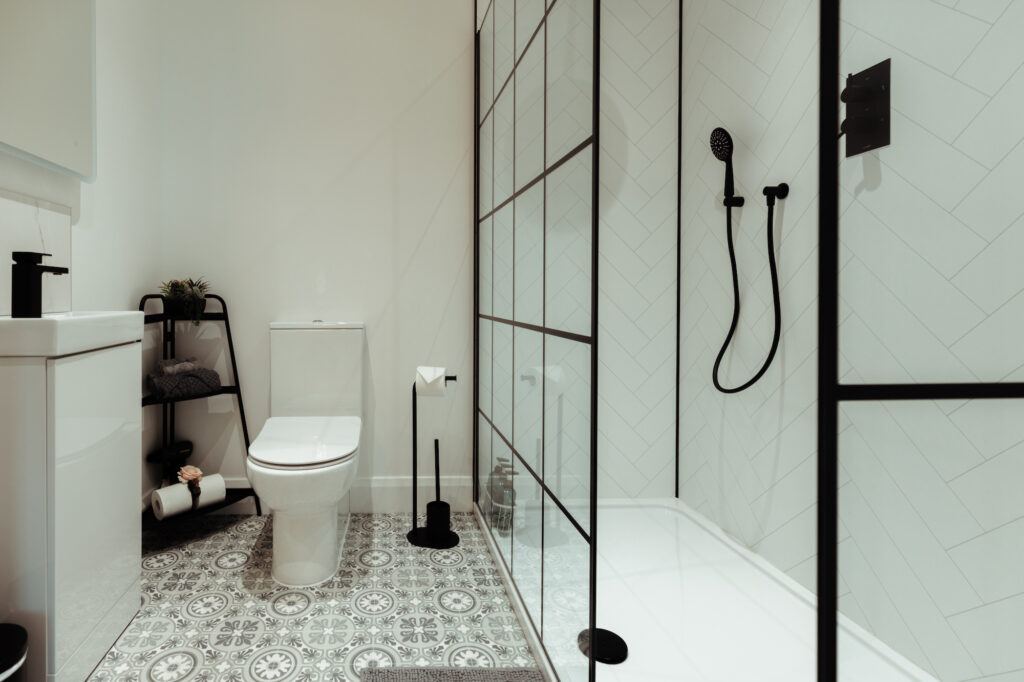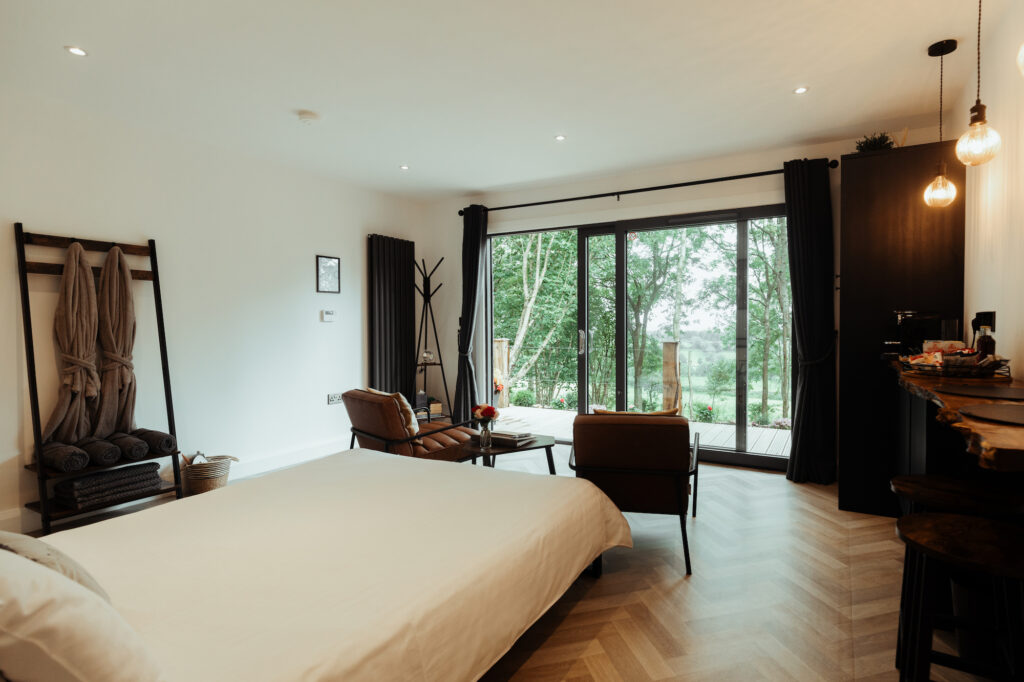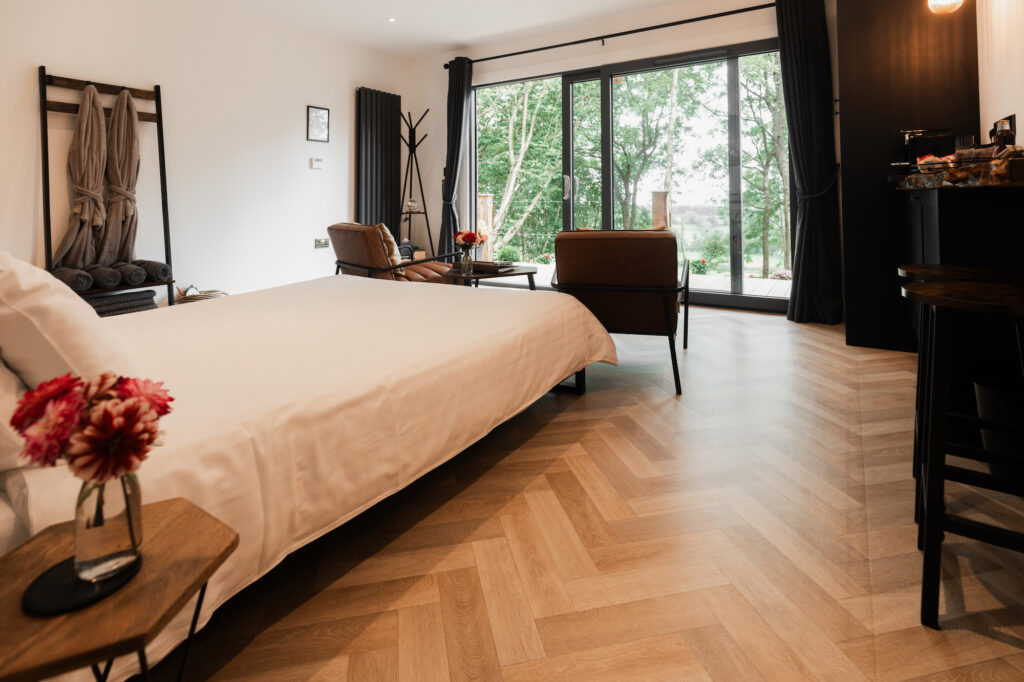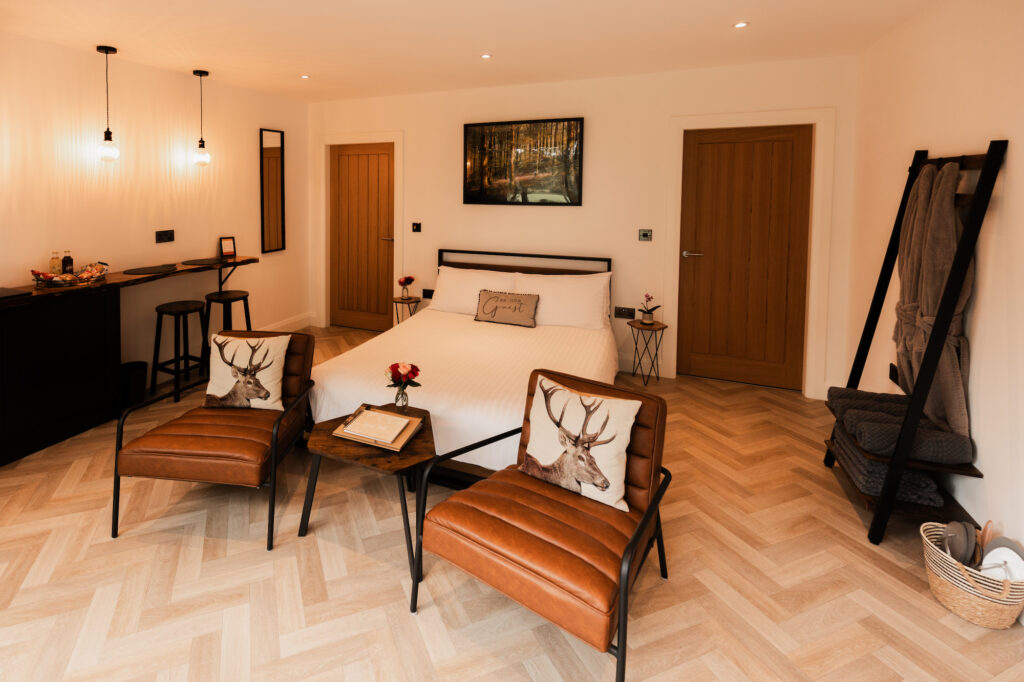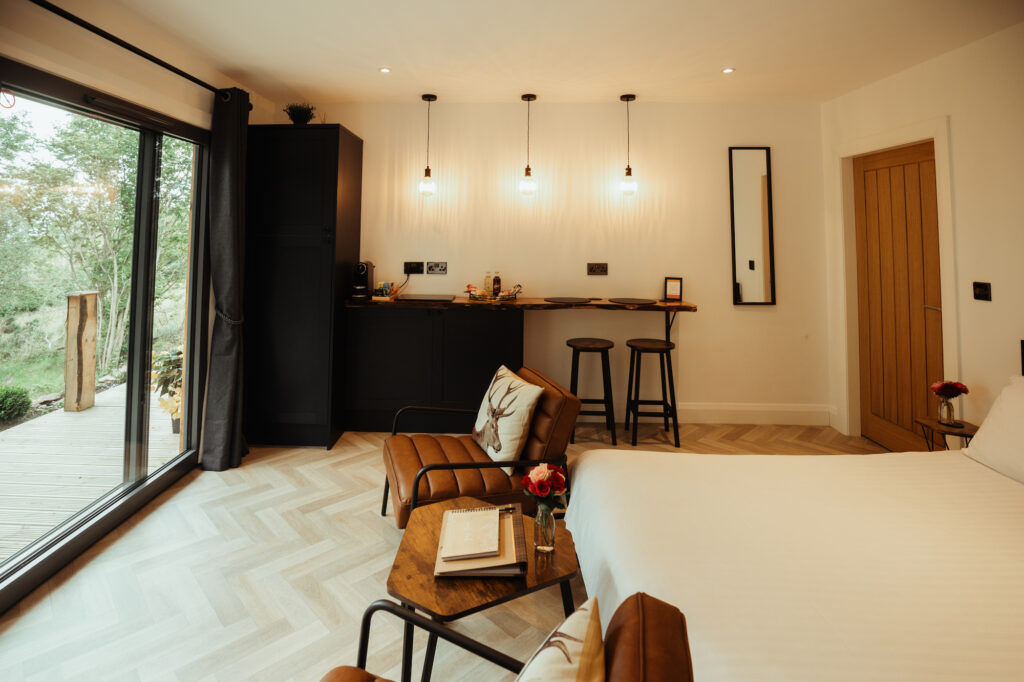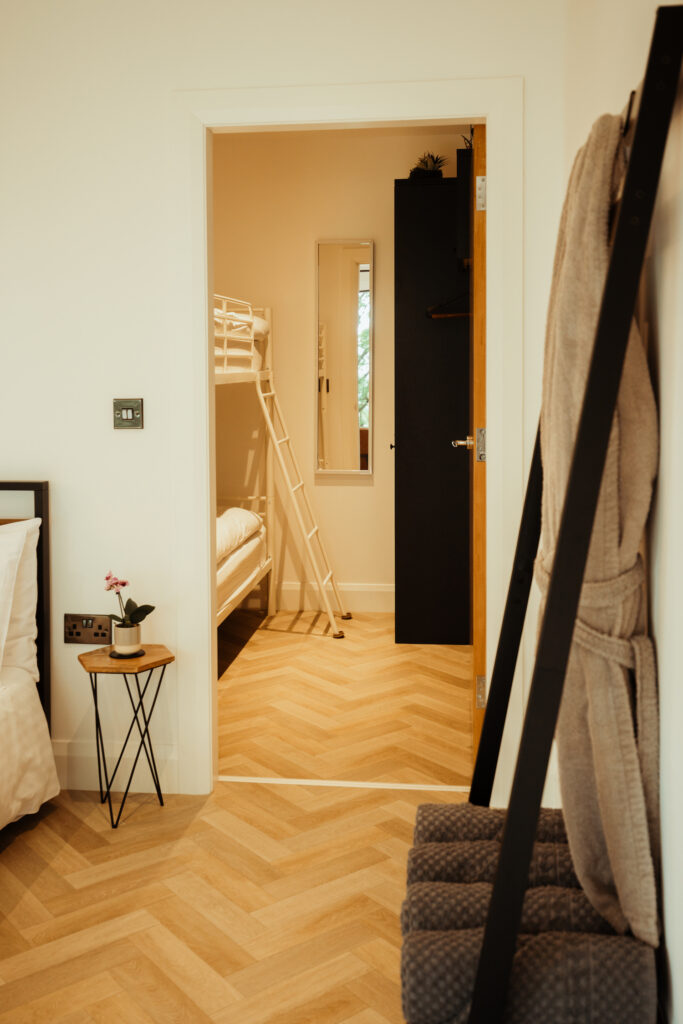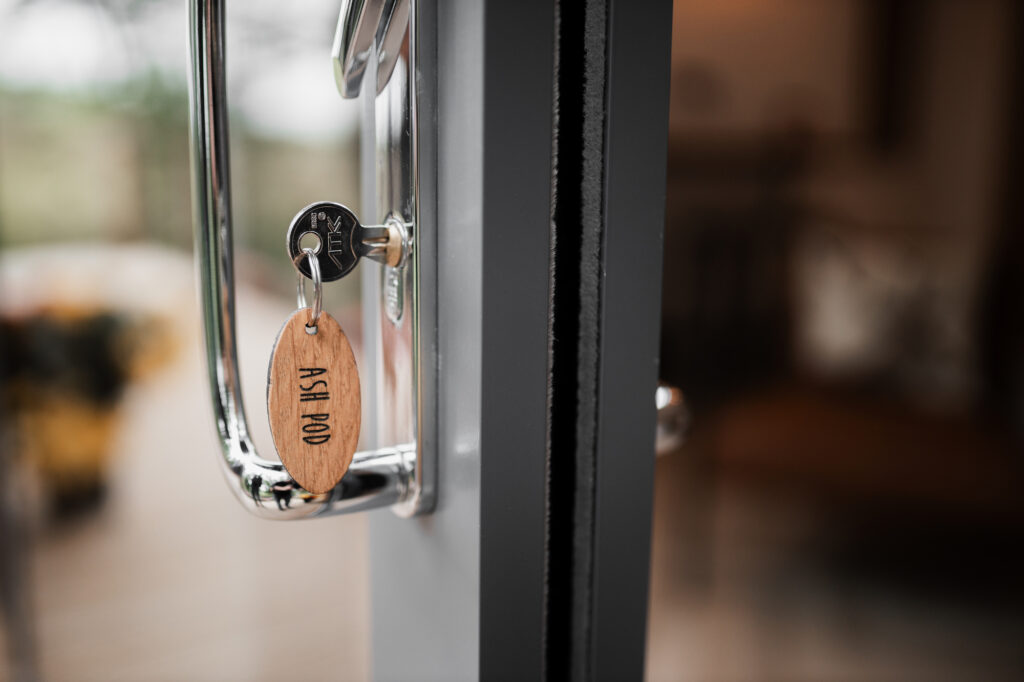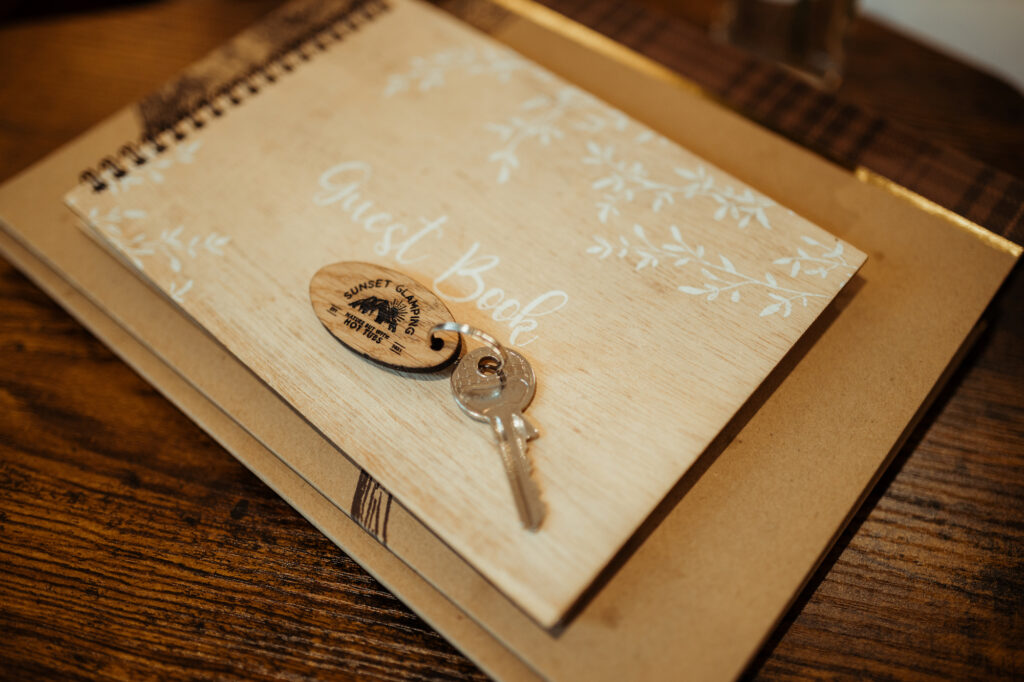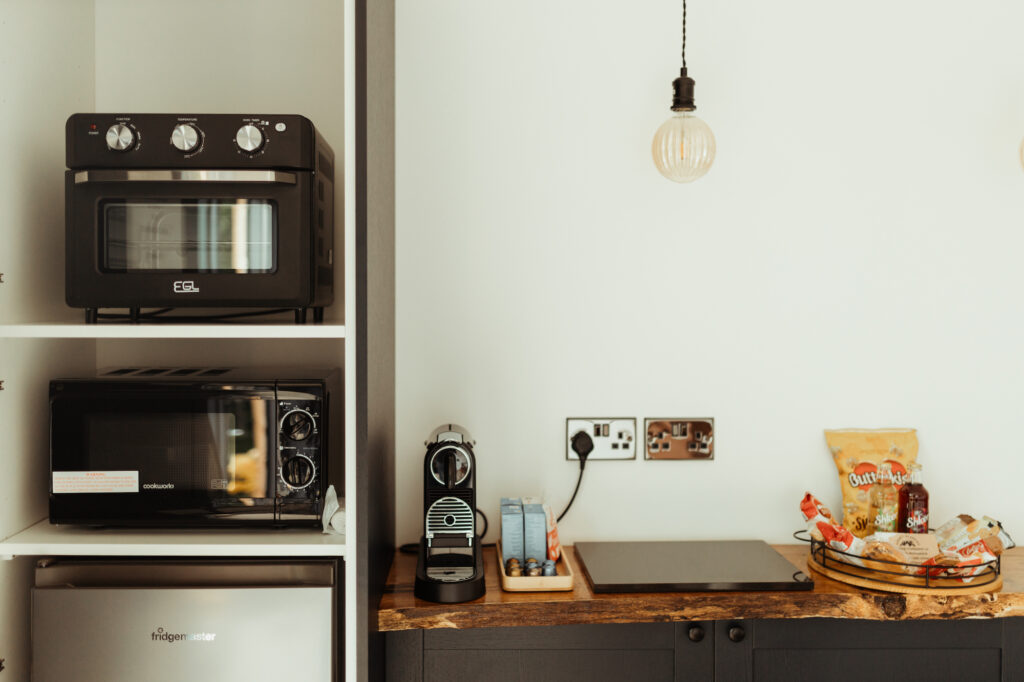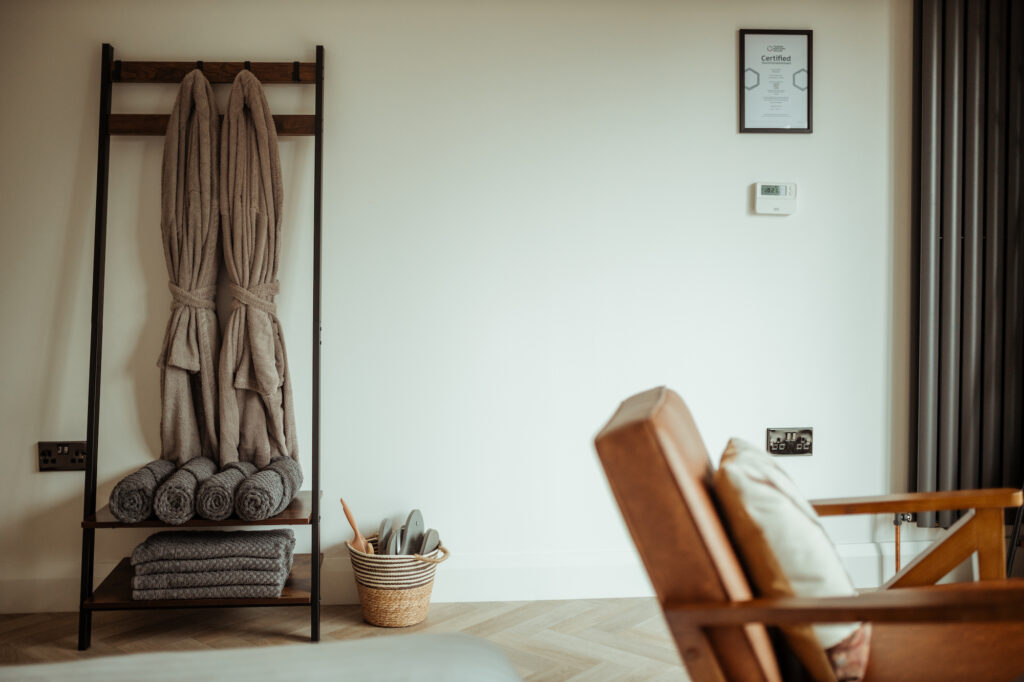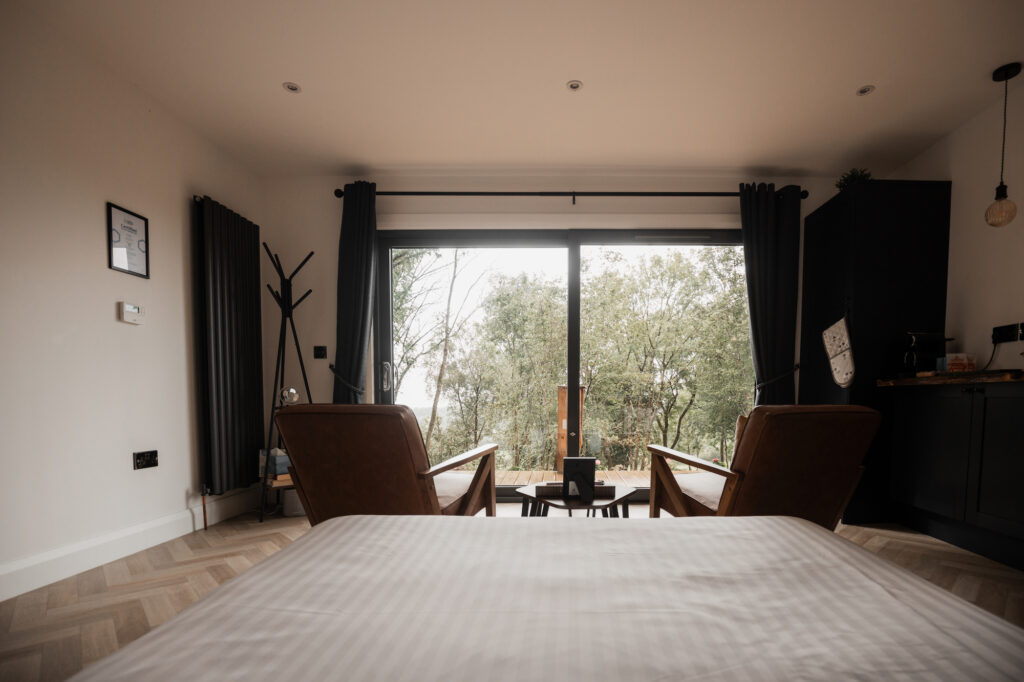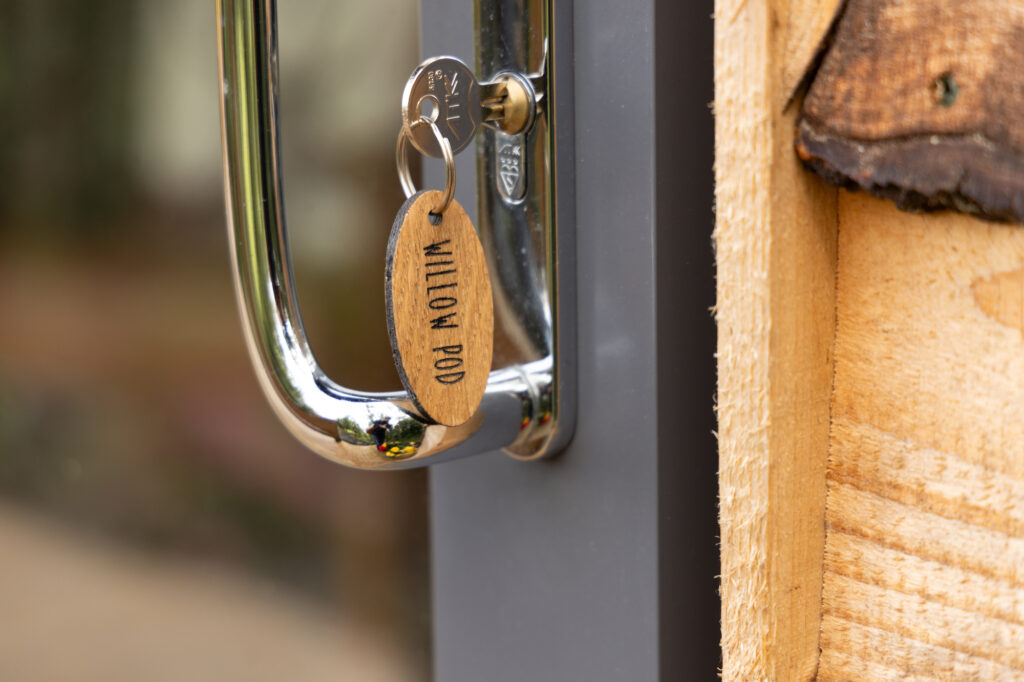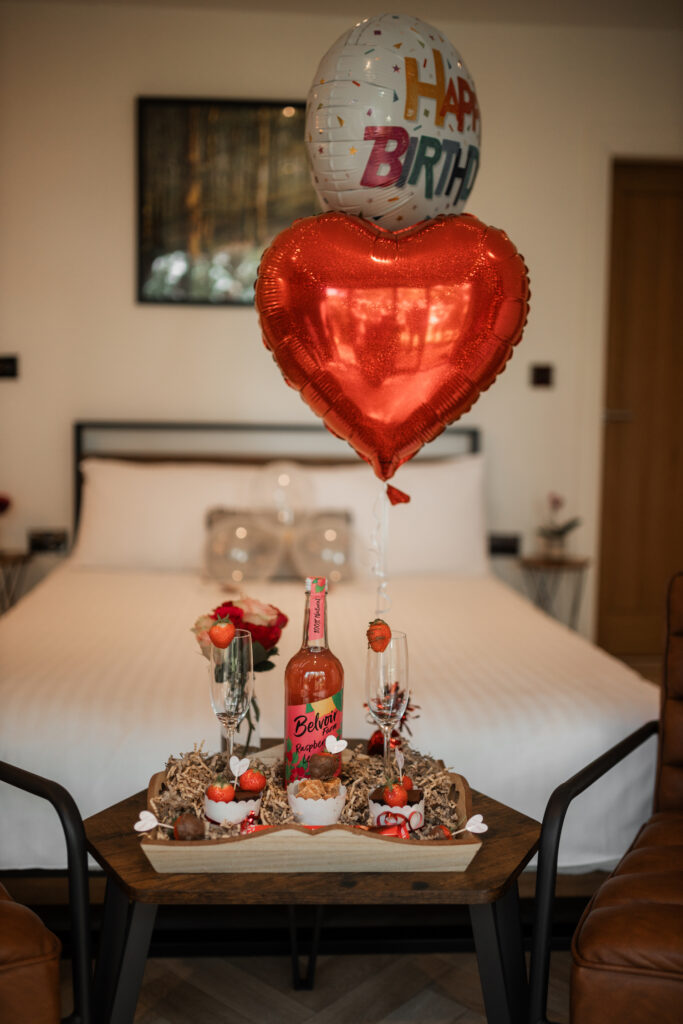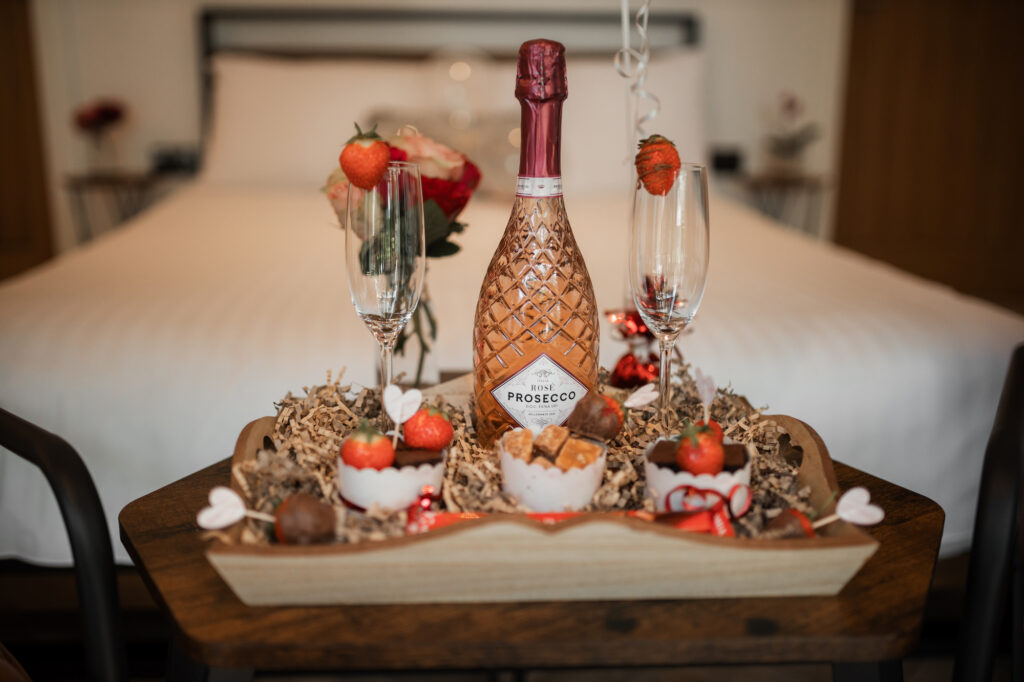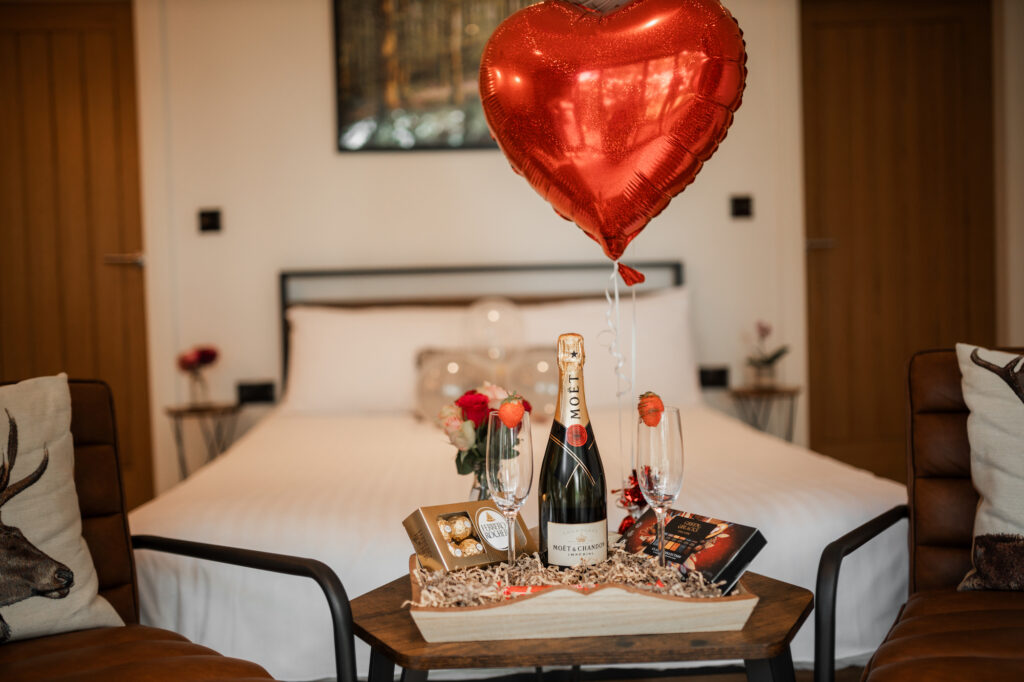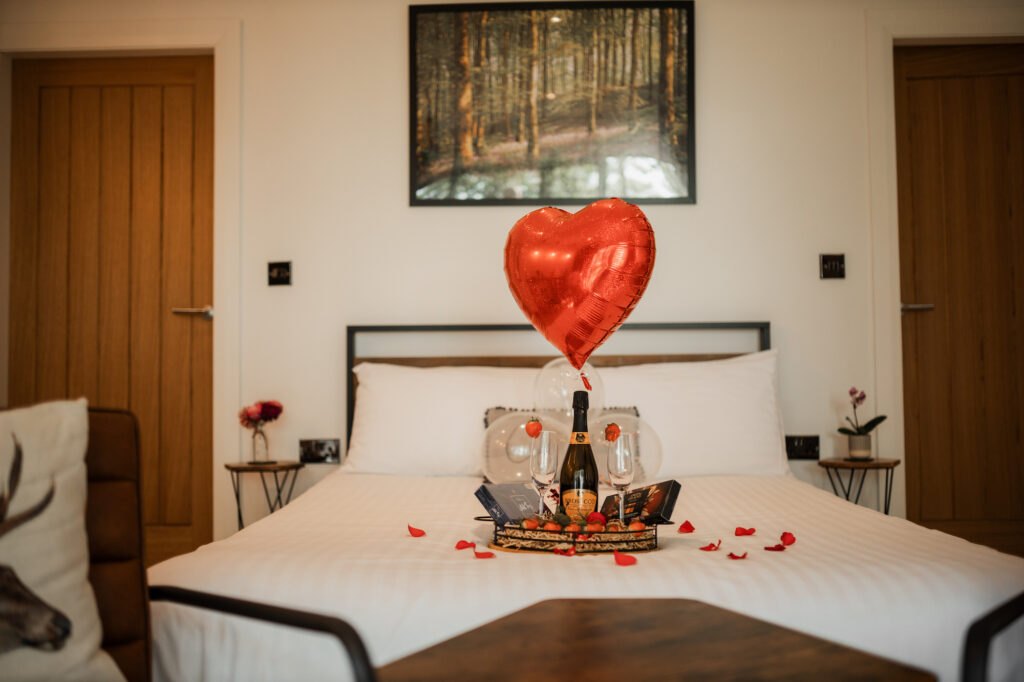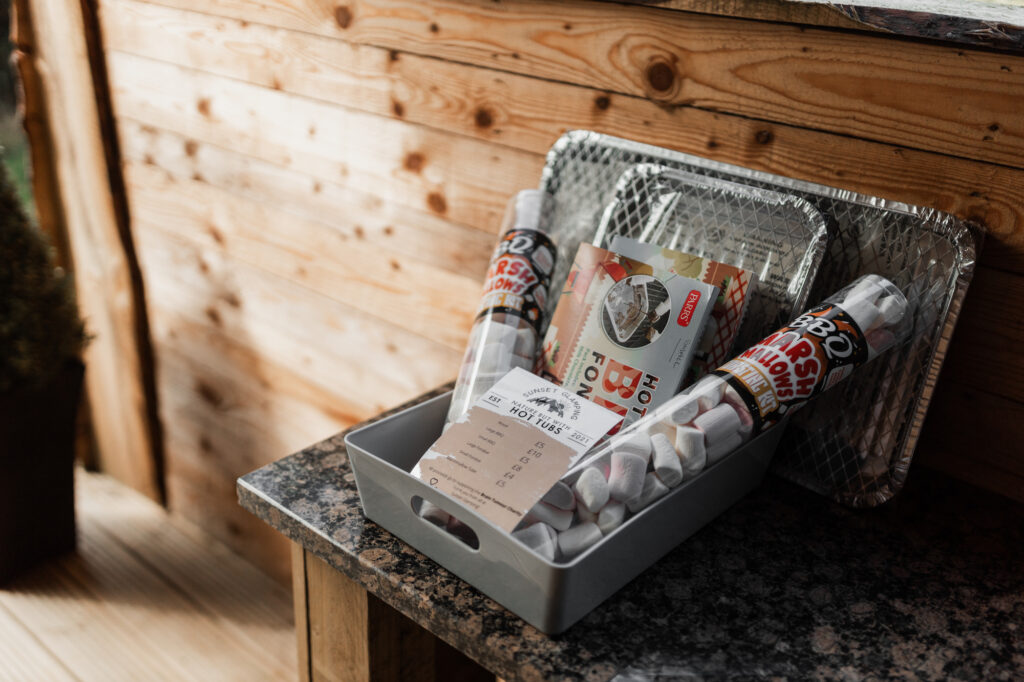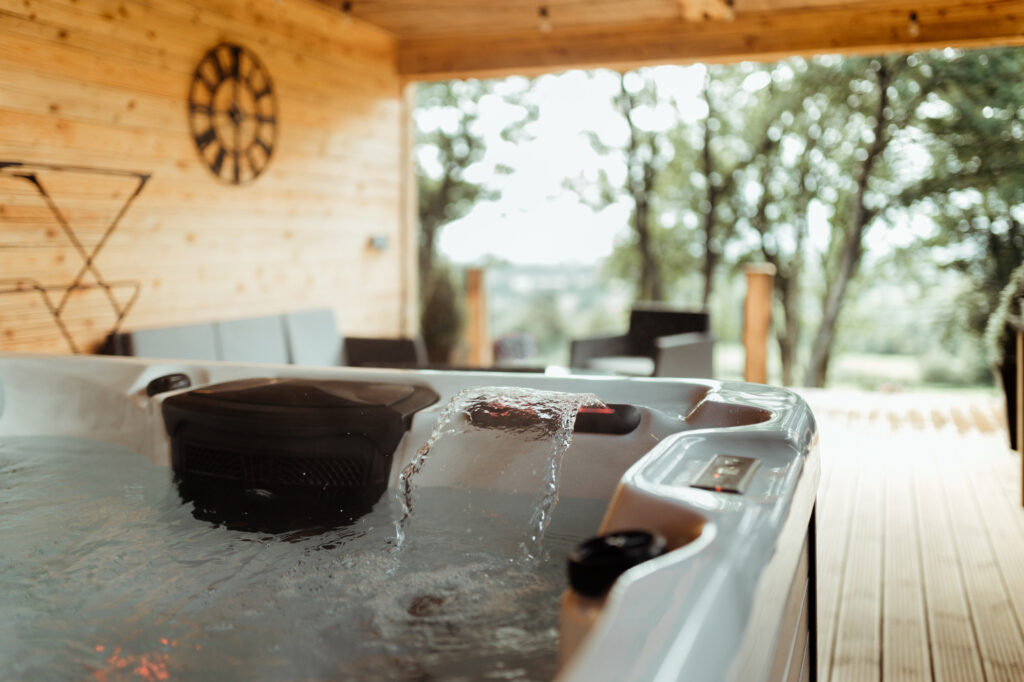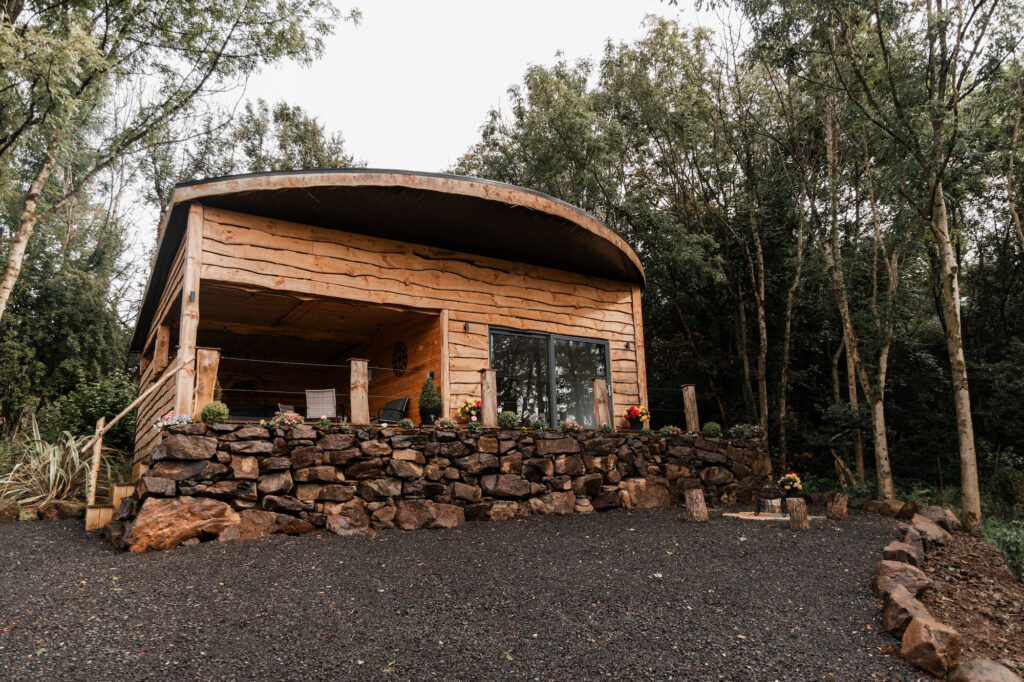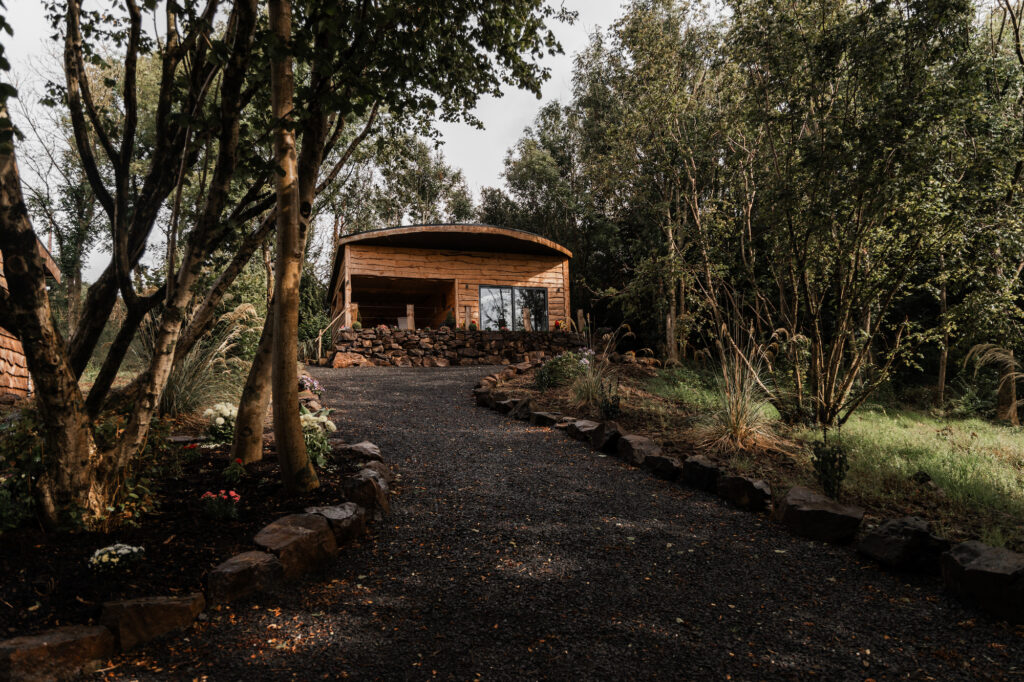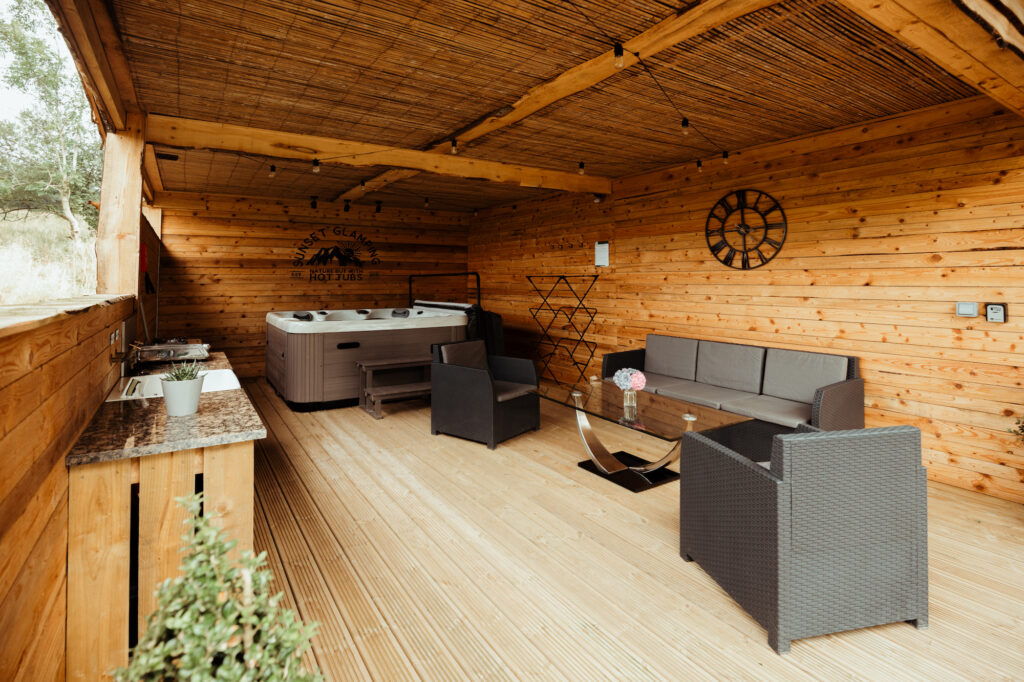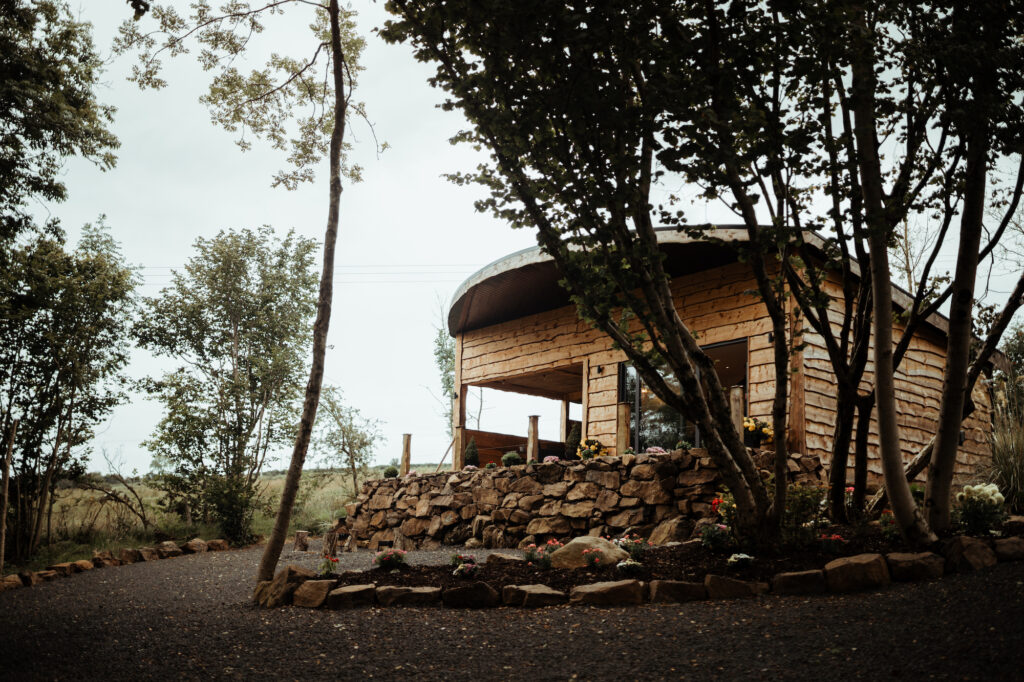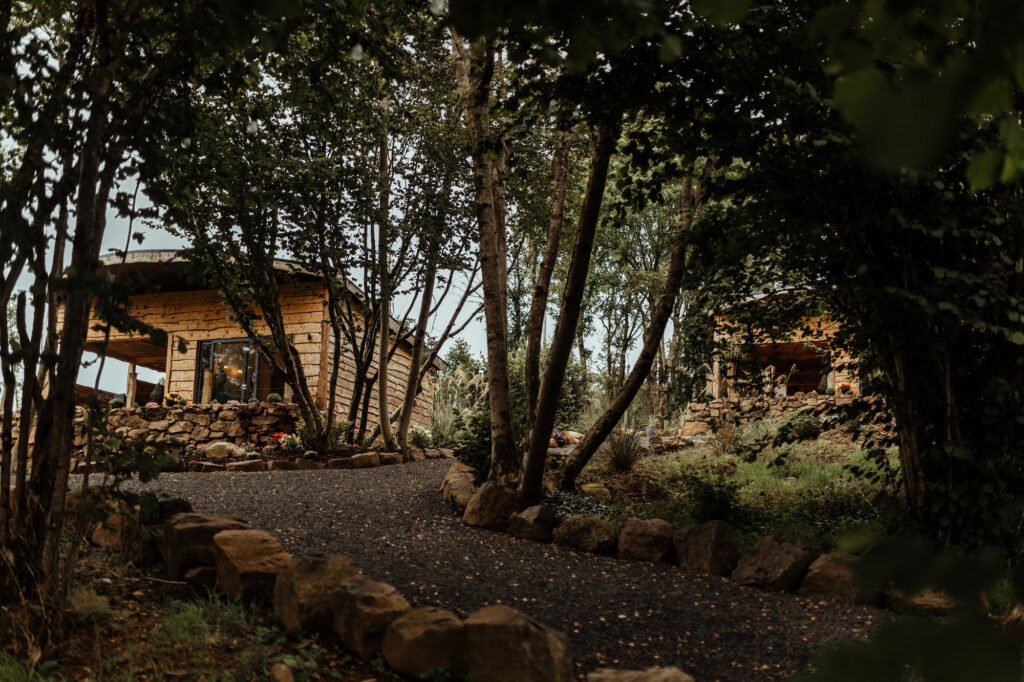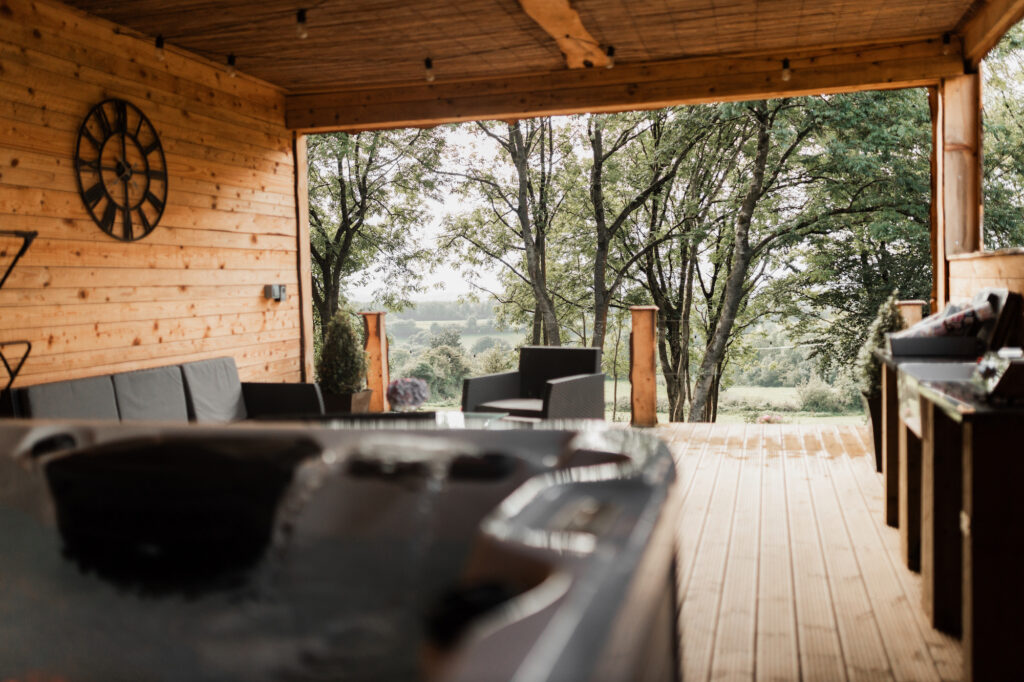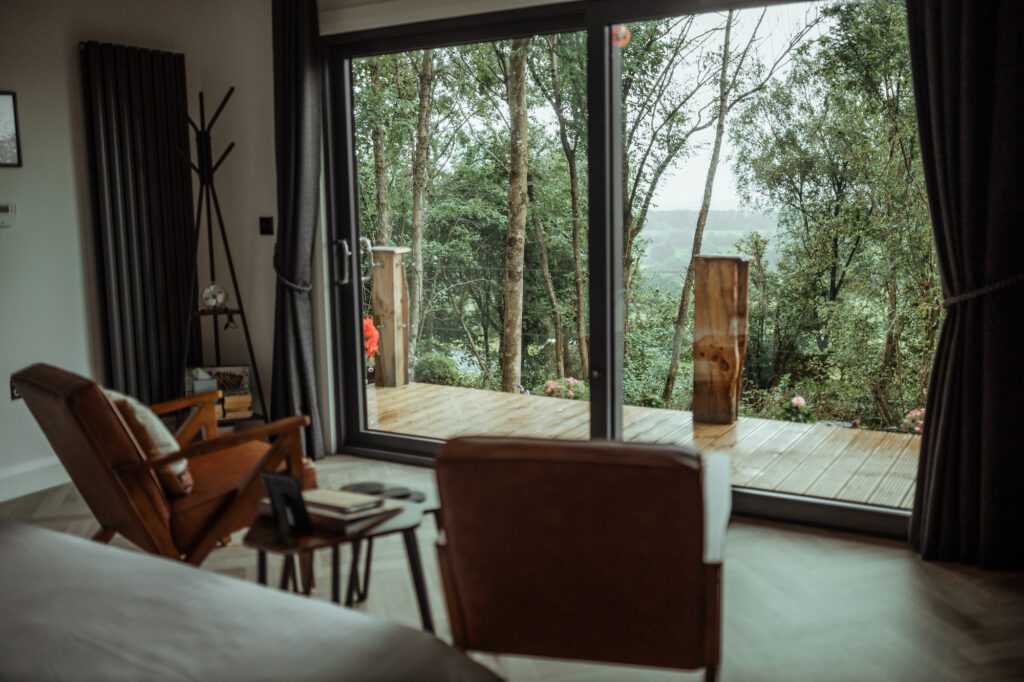 Things to see and do
Portglenone Forest
1.5 Miles - 3 mins

Portglenone Monastery
1.3 Miles - 3 mins

Fisherman's Walk Portglenone
1.6 Miles - 4 mins

Portglenone Marina
1.7 Miles - 5 mins

Newferry Waterski Club
5.9 Miles - 11 mins

Galgorm Golf Club
6.1 Miles - 12 mins

Kilrea Water Park
8.8 Miles - 15 mins

Peoples Park Ballymena
8.1 Miles - 16 Mins

Antrim Castle Gardens
16 Miles - 24 Mins

Slemish
15.9 Miles - 31 Mins

The Jet Centre
23 Miles - 34 Mins

Dark Hedges
22.7 Miles - 36 Mins

Glenarm Castle
24.4 Miles - 43 Mins

North Coast Attractions
31.6 Miles - 47 Mins
Where to find us
Sunset Glamping is situated in a unique farmland location, which has been in the family for four generations.
51 Tully Rd, Portglenone, Ballymena BT44 8DG
What People Say
Stuart and Naomi
This place is wonderful! Every little detail has been thought of, right down to the yummy pancakes! We loved our stay. 12/10!
Josh and Shannon
Paul is a very nice host and very helpful with everything. Top quality cabin with everything you could need. We loved relaxing in the hot tub and bed is very comfy, will definitely be back again!
Andrew and Leanne
Fantastic stay! Very relaxing with beautiful surrounds. Pod equipped with more than you need; comfortable bed, great shower and lovely decor. We really appreciated the private hot tub, with an even better view! Paul was a great host and knows a lot about the area. Had a great stay and we will be back.
Kirby and Ashley
A beautiful night away! Peaceful location with stunning views. Top quality cabin with everything you could ask for. We loved winding down in the hot tub after our evening in Portglenone - will definitely be back again. Thanks Paul!
Edel
Beautiful location, beautiful place, absolutely no complaints. 100% recommend.
Tom and Julie
Perfect weekend get away, stunning place to wake up to. One of the best hot-tubs we have been in. Highly recommend.
Jordan, Tara and Aoife
Fabulous stay! Loved every detail about the glamping pod! Hot-tub and views were fantastic and Paul could not have been more helpful!
Sioux, Leigh, Madison and Dillon
We had a fabulous stay! Location is beautiful and the glamping pod is just amazing! All the little details really make you feel welcome. We all loved the hot tub!!
Victoria and Josie
What an amazing hidden gem Sunset Glamping is! A very busy week at work with the Downtown Country Breakfast show & a few Cool FM lates = being very tired on arrival.... However leaving here I feel so well rested! The gorgeous decor, stunning views, fab hosts.... I could go on. Thanks you for the most wonderful Mothers Day weekend with my wee mummy Josie. Can't wait to see this venture continue to flourish!
Erin and Ross
Simply amazing! From the Luxurious pod to the stunning views (best seen from the hot tub!) This is a perfectly curated space to ensure a relaxing stay. Paul couldn't have been a better host.
Bruno and Caitlin
We had an amazing stay, would definitely recommend! A Big thank you to Paul who arranged decorations and treats on request for our 5 year anniversary.
Caitlin and Adam
10/10 Would recommend!!! Amazing hosts, could not fault this place at all, will definitely be back.
Kelly and Niall
We had the most amazing time. Beautiful place. Thank you so much Paul.
Darren and Ann Marie
Loved our stay! Decor was modern/Rustic, the view with the sun setting was just beautiful. Paul was a great host helped us anyway he could. Will definitely be back to stay in the summer again. 26/2/23
Rebecca and Josh
Lovely relaxing stay! Hot Tub is fantastic with beautiful views. Lovely space for a fire at night with the lights surrounding! The Pod is amazing, felt very luxe 10/10 stay.
Robin and Joanne
Such a lovely stay here, definitely one of the top three glamping experiences! It was so nice to take time to enjoy each others company & take in the beautiful views. There is not a single thing we would add!!
Shannen and Conrad
Our stay in the willow cabin was perfect! Paul was a very welcoming and polite host. The cabin has everything we needed and the Hot Tub was very relaxing. Fantastic views and great facilities. Overall, a brilliant experience. 5/3/23
Brad and Samantha
10/10 Would recommend! Great views from the Hot Tub. Great hosts and the cabin is spectacular, could not fault it at all! Will definitely be back. Perfect birthday surprise.
Drew and Aine
Amazing views from all around the cabin. Very Helpful hosts. Had the loveliest night stay and would not hesitate to stay again. 100% would recommend.
Owen and Bethany
A hidden gem!! Had the best night here. Hot Tub was amazing & the place is so cosy. 10/10 recommend, we will be back.
Sam and Krista
Thank you so much for letting us stay at the cabin! We had the best time we will definitely be back!
Jamie and Cat
Thank you very much for everything you did to make us have an amazing stay. The cabin is just perfect and so was the hospitality. We already want to come back next week!
Neil and Ellie
Fantastic stay. Very Welcome from the minute we arrived. Cabins are absolutely stunning from first view on walk up the path. All instructions are very clearly set out. Cabin was nice and cosy, perfect for a couple looking to escape the hustle and bustle of the big city. Hot Tub is a great added bonus for a late night relax. Could not fault this place! Only thing I can fault is mother nature (No sunset)
Annie and Nadine
Lovely night away at Sunset Glamping. The cabin was unreal & all the small touches greatly appreciated. Would def recommend & 100% would return. Thanks
Nathan and Clidna
Had the most relaxing stay here with the most beautiful views. Everyone was so friendly and welcoming, will most definitely be back.
Niall and Amy
Amazing stay & set up. Paul is a fantastic host! Came for a birthday and they went above and beyond to make it special. Couldn't ask for more for a get away. Would definitely come back and recommend to others. Thanks very much for everything Paul!
Kieran and Roisin
We loved our visit to this hideaway, the peace and quiet along with the perfect set up made it a unique night to remember. We made full use of all the facilities and loved everyone. Sitting peacefully on the armchairs was our most enjoyable element. Even though it was only a one night stay it felt a lot longer because of the slower pace of this chilled environment. We are leaving very relaxed and both in a very happy place. Good memories!
Sharell and Tammy
Had the most amazing night here for my friends birthday. Cabin spotless with all the amenities needed. Hot Tub very big and warm, the robes were a great touch! Super friendly host, couldn't do enough for us. We will definitely be back.
Lauren and Ryan
This trip was a surprise from my boyfriend and he honestly couldn't have picked a better place. The host was lovely, the views were beautiful even in the bad weather and the Hot Tub was such a lovely addition. Hopefully we will be back.
Ryan and Christine
Sunset Glamping has been the perfect little retreat! The peace and quiet is blissful! Willow Cabin is perfect too. Beautifully finished and loads of wonderful touches. Paul is a super host and really has thought of everything to ensure a perfect stay! The Hot Tub was also amazing- a perfect way to spend an evening. Thank You!
Robert and Courtney
Thankyou so much for the amazing stay at sunset Glamping. We felt so welcomed by Georgina and the birthday gift was extremely thoughtful. The place is so relaxing and everything has been thought of by the hosts. We couldn't have asked for anything more. We will definitely be recommending this spot to our friends and family. Thank you!
Sarah and Ethan
What a breath-taking space! An amazing place of tranquillity and the perfect place to unwind. Georgina welcomed us literally with open arms, the loveliest lady we have ever met, thank you for making us feel so comfortable and at home! We came here to celebrate a quiet birthday and we could not have asked for more. The Sunset Glamping team even left a birthday card for Ethan and offered to help me decorate the cabin as it was a surprise stay for him. Such a wonderful family run business. The nicest Airbnb we have ever stayed in, we will absolutely be returning and recommending to all our friends.
Tim and Shannon
Thank you for an amazing stay. Everything exceeded our expectations, the photos online do not do it justice. We will definitely be back in the near future.
Eimear and Jordan
Wow! What a place. The scenery alone is spectacular. Such a great place to stay and it was a special night for both of us. Fabulous hosts!
Becci, Ryan, James and Shelly
We had an unbelievable stay here at Sunset Glamping. Nothing was too much and I more than anyone appreciate all the effort that went into decorating the cabin as it was a well received surprise for the other halfs birthday! The Cabin itself is absolutely stunning along with the view! we will definitely be back.
Sorcha and Josh
Had a great stay. Thank you for a great experience, have stayed in many glamping pods, none like this however. Completely exceeded our expectations. We will definitely be back again
Stephanie, Brandon and Lili
Thank you for a perfect stay that we really needed. This is the nicest Air BnB we have ever stayed at, luxury in the woods. The bed was so comfy, shower so hot and sitting in the hot tub listening to the birds cheep.... Fantastic! We will be recommending to our family and friends. Hope to come back here. We felt so welcome and comfortable, thanks to the loveliest host. Baby Lili loved the cuddles!
Shane and Sabrina
Wow, what can I say! From the moment we arrived and the friendly greeting from the lovely Georgina to the thoughtful card & treats for my husbands birthday it has been perfect! The Cabin is gorgeous with everything you need for a break away. The bed & chairs overlooking the trees are so comfy. The private covered deck and hot tub are just the perfect addition! We have loved every minute and will be back!
Nadia and Jason
Thank you so much for the most amazing stay! Sunset Glamping is absolutely stunning! Spent 3 nights here, but we could have stayed so much longer. Thanks to Georgina for being the most amazing host & making this birthday trip extra special. We will be recommending Sunset Glamping to everyone we know & will most definitely be back ourselves.
James and Jess
Thank you!! We had an amazing stay here for our 6 year anniversary. Georgina couldn't have been more kind and helpful! Amazing views, good food and we will be back.
Iain, Clarissa, Euan and Rhys
The location is fabulous!! Nothing has been left to chance, Everything has been thought of. The hard work has paid off! Check-in was great and so was the Hot Tub. We really enjoyed our stay and will be back.
Ruth and Ross
What an incredible place! Perfect hideaway in a stunning location! We could have stayed here forever. Thank you for having us.
Bradley and Victoria
We had the most amazing stay. Thankyou for everything, all the little touches were lovely and greatly appreciated. Hot Tub was so fun and the bed soo comfy. Overall just an amazing relaxing stay. P.S Georgina is the kindest lady we loved meeting her!
Niamh and Glen
Wow, Fantastic stay at sunset Glamping!! We were both blown away by the design of the lodges- no stone left unturned, you have thought of everything. Incredible Hot Tub as well. Massive thanks for everything. 7/6/23
Ciara and Eoin
Thank you so much for our stay. We had a lovely evening in the peaceful surroundings. The Hot tub was great and we had everything we needed. Will be sure to recommend Sunset Glamping. Thank You 9/6/23
Dylan and Jess
Had a lovely stay! Such a warm welcome, the pods are so well finished and the views are stunning. Such a great wee escape surrounded by nature. We will definitely be back. Thanks for having us!
Michael and Cathy
Peaceful, relaxing, bliss, outstanding as always! What a place! Another magical stay in a magical place.